MAGNA CARTA PLACE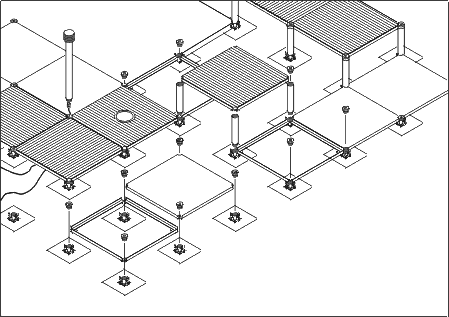 Entry in a competition to design an events space outside Canberra's Old Parliament Building.
A compact and lively focal point is to draw in the visitor. This space is to address, rather than invade the sites large, green, semi-circle, using mature existing trees act as a backdrop. These may be reinforced with another layer of softworks. An informal footpath through this area acts as a gateway to and from the Old Parliament House Gardens.
A system of floor plates with interstitial fixing points has been devised. This system is intended to exploit the space's potential as an events space. Plates will either be sections of movable decking or rich floor features. Sand cast bronze 'blanks' may carry text carved using computer numerically controlled milling machines. Applied decoration could include text explaining the historical relevance of the Magna Carta, as well as individual clauses accompanied with contextual information. Text could be interspersed with heraldic imagery. The raw material for this decoration would produce an interesting study in it's own right. These plates may be rearranged or added to, should the area require extension.
Threaded fixing points, with tamper- proof heads, are to fix additional elements. These include lighting bollards, lightweight structures, flag poles etc., and can also secure temporary items of sculpture. The modular nature of these proposals will allow components to be quickly replaced throughout the scheme's life. Electrical cables are routed to individual fixing points as required. An electricians pit may be positioned underneath the removable floor plates.