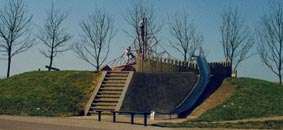 Furzton North Local Play 1 is a single component within Furzton North Local Park, a popular piece of public open space.
Linear in character, the park runs through a housing grid square, towards a balancing lake. It takes the form of a 'Redway' (Milton Keynes cycle/ leisure route), regularly punctuated with features such as viewing platforms, cycle tracks, kick-a-bout areas, horse trails and play areas.

This particular component occurs at an intersection between the linear route and the end of two vistas. At the end of each vista is raised viewing platform/ play space.
Equipment includes a specially constructed curved embankment slide and a 'spacenet' which, with careful earth shaping, gives a seven- metre viewing height, without compromising relevant safety standards.