MOBILE BOX OFFICE
---
Ongoing spin- off from a shortlisted competition entry to design a mobile box office.
Designed with multiple public venues in mind. Musical and theatrical performances often take place in a wide variety of venues: schools, church halls, community centres, town halls, churches etc.
Components used for ticket sales are packed into a compact totem which can be moved between venues or stored when not in use.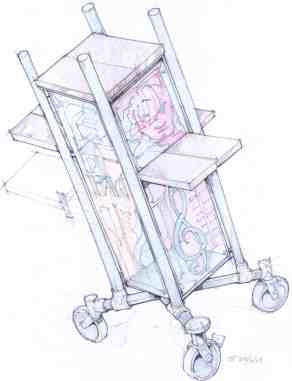 Click to view 263K flash animation...
Operators work around the totem in close proximity with the public. Counters may be added at any height for wheelchair users or for distributing promotional materials, and flip up for stowability. Internal shelves and lights may be added or removed at any height for versatility. A robust polycarbonate outer skin is held in a light alloy tubular frame for protection and ease of handling. Internal lighting shines through bubblejet printed translucent banners. When not in use the unit has a secondary role as a information point with it's counters & back-lit display- the VDU can be used as an active display. Future developments include touch sensitive screens for interactive displays.

The design is a rationalised version of a previous design, developed in response to general enquiries. By using tried and tested 'off the peg' components it is hoped that the unit may be built to order.
---
PDF Version (900K)


---
&copy Justin Tunley . Narrow Boat Teasel . T: 07905 822 381
View flash animation (263K) | View PDF (900K)
Next page: more details.
Back to Product | Home page
Previous subject: door | Next subject: Partitions.
A-Z of entire site | A-Z of products.