DO WE REALLY NEED TICKET OFFICES?
Industrial designer Justin Tunley puts forward a radical reappraisal of the our box office. the proposal was short listed as part of an arts Competition at LIPA in Liverpool
Embedded within the fabric of most of our places of public entertainment there lurks a box office that would be familiar to our great grand parents. Masonry barriers are placed in front of seated vendors, often recognisable only by the tops of their heads. Little information is displayed despite continuing advances in computer and screen technology. On the other side of the counter keyboards, screens, ticket machines, cash trays, computers and mice have accumulated on an ad-hoc basis with little or no opportunity to consider ergonomics. Dormant for much of their lives (regardless of demand) these spaces remain anchored to the spot, eating into valuable circulation space whilst offering little in the way of flexibility.
One alternative approach could be to provide durable, flexible pieces of mobile free standing furniture capable of adapting to changes in use as well as advances in available technology. Vendors would work around rather than behind these stations in closer proximity with the Public. When not used as points of sale the units. would be folded for storage or fulfill a second role dispensing audio visual information. The inherent flexibility of such an arrangement would allow the distribution of vendors around any building as required - thus easing bottle- necks during major performances or providing a box for more intimate events. Smaller Venues, without Ticket Offices, used on a periodic basis (Schools, Village Halls, Arts Centres, Libraries etc.) could also benefit greatly from a compact, stowable unit which might be shared and easily transported between sites.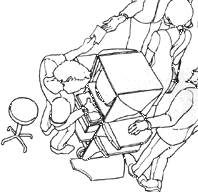 A specific proposal.


Various elements may be arranged in numerous configurations within a single upright totem. External counters provide cheque signing/ cash handling/working space at both standing and wheelchair heights.


Facing the public a prominent back-lit toughened glass panel forms a blank canvas for posters, seating plans, colourful graphics and artwork. (Transparent or translucent films can be bubble jet printed in colour from a computer or camera-ready artwork). Internal lights also provide effect and task lighting within the unit and to counters as light spills through gaps in the paneling. When the unit is not being used for ticket sales the monitor may also dispense dynamic Audio visual displays. Internal wiring is provided in the form of a removable harness at the rear of the unit- This harness would remain in position when the unit is emptied so that individual items of equipment may be quickly unplugged and removed.
Circuit breakers and transformers (serving low voltage internal lights) would be fitted to a tray in the unit's base. When unattended two hinged panels slide out from the unit's base and lock in position protecting the totem's contents. A further hinged glass panel protects the monitor whilst leaving it visible for display purposes. A standard cash tray would be removable through captive screws accessible where the tray is unlocked.
The totem may be rolled along on a retractable trolley. (The operator lifts a single lever at the unit's base). For- storage the unit can be collapsed from front to rear (two stays on either side of the unit must first be released). The unit's central void (a space of 500mm x 500mm x1200mm) may evolve over the years as it's contents are altered and upgraded.
Potential developments include L.E.D. matrix displays, capacitance switches to the back panel, large format flat interactive touch sensitive screens, and dual monitor displays (one monitor facing the operator, a second monitor facing the public All of these options could be post fitted and supported by appropriate software.
Specification.
Overall size
1,450mm x 500mm x 1,500mm high.
(Central totem 500mm x 500mm x 1,500mm high)
Folded size: 1,450mm x 250mm x 1,800mm
Weight
(Estimated, empty): 55 Kg
Power
transformer to 6 low voltage internal lamps earthed with circuit breaker and removable wiring harness. Communications: telecom and computer.
Materials/finishes
The use of a simple steel frame would allow any number of external finishes to suit the setting. Timber has been selected as one possible material for its sympathetic appearance and ability to age, gracefully.
Frame:mild steel, powder coated.
Outer panels:Ash faced plywood.
Counters:European Oak.
Display Panel:6mm Toughened glass.
Monitor panel:4mm Toughened glass.
Shelves:16 S.W.G Perforated to allow cables to be tied into position.
Shelves may be removed, added or mounted on sliders and are re-positionable within the central void.