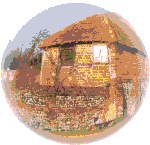 Winning entry in a national competition hosted by Chiltern District Council to design site features for a combined cycle route and Chiltern District Council arts trail.
Set in The Chilterns- some of England's most famously charming countryside, surroundings varied from historical buildings to more rustic sites, within existing woodlands.
Old Jordons guest house is a seventeenth Century farmhouse managed by the Society of Friends, who have dedicated much of the surrounding grounds to the public good.
A variety of shades, shelters seats and pergolas have been proposed.
The village of Chenies is described in the guide book as 'a fine example of a feudal village' and has all the features traditionally associated with the quintessential English Village.
It is, needless to say, a conservation area. A secluded area of woodlands has been identified as a visually unobtrusive gathering point.